They say good things come to those who wait.
Opening day turned out to be more of a scouting mission, likely due to to the fact that I didn't do any pre season scouting

. I've always been a fly by the seat of my pants kinda guy anyways. But it wasn't a waisted day as I located my target, a nice Tom who had a preference for agriculture, and came up with a better plan for my next outing.
My second day was "oh so close" as my target came in hot and heavy but hung up short and skirted my decoy setup just close enough that I had a bead on him but just far enough that I decided it'd be wise to wait for my next opportunity.
Which brings us to day number three. This time I said screw the decoy in hopes of coaxing him in a little closer. As the thick fog lingered and daylight started to settle in, his familiar gobbles rang out from the adjacent woods. Unfortunately he had taken up roost much deeper than days one and two. No matter as my box call cutting eventually brought him out of the woods and up the fields edge on a crash course with my Winchester 1300. A deep breath was in order to settle the thump in my chest. As he walked across in front of me at about 20 yards out, I waited for that brief moment when a Turkey stops moving, head up to analyze it's surroundings, and I took the shot. My 3" Winchester Supreme #4 Turkey load did it's job and I had my Tom!
He came in at just over 19lbs with a 7-1/2" beard and 7/8" spurs.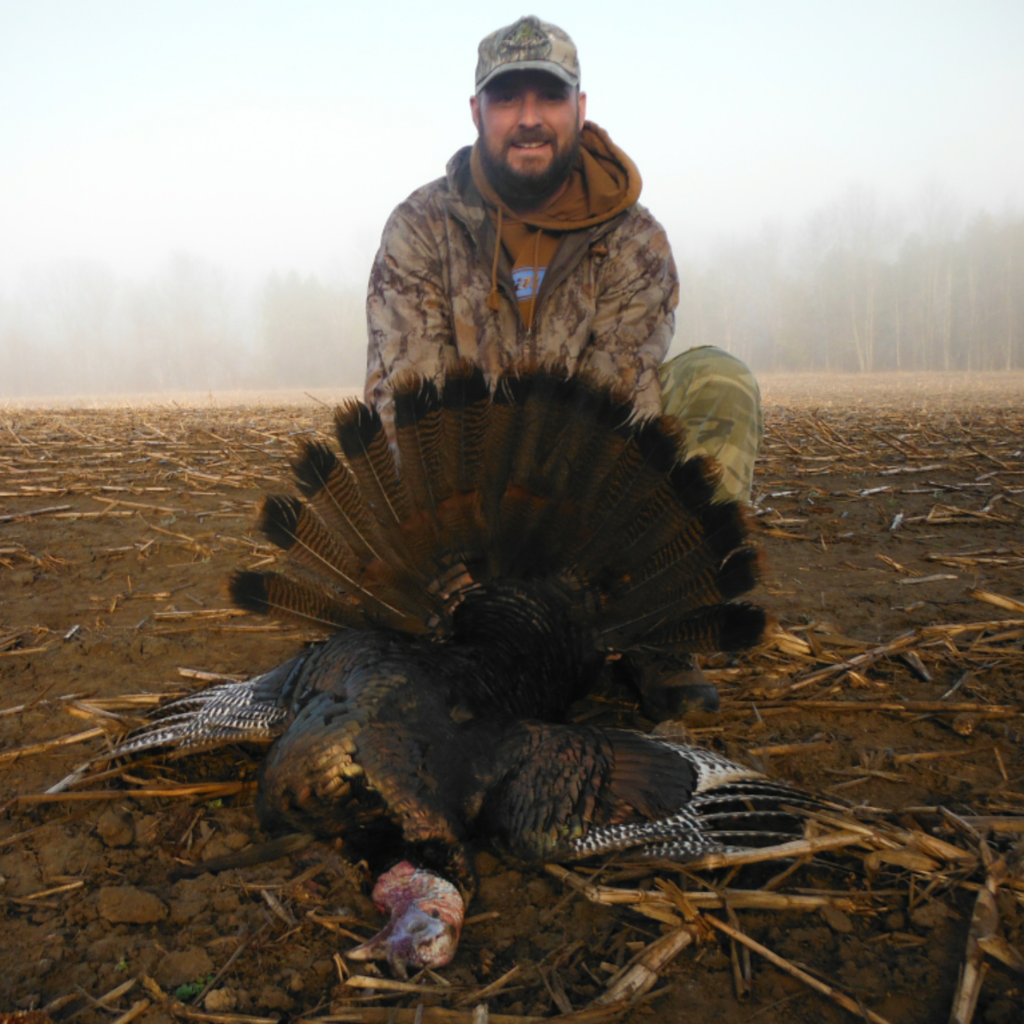 I've arranged a hot date for him with my Traeger real soon!
I got 99 problems but a fish ain't one...
Bronze Participant

Posts: 446
Joined: Wed Jan 06, 2010 9:05 pm
Location: the mighty st. lawrence
---
Awesome bird and great follow up game plan.
MEAT - Grind it, stuff it, smoke it.
Site Admin

Posts: 1640
Joined: Thu Sep 08, 2005 1:54 pm
Location: Quinte Country
---
Bronze Participant

Posts: 319
Joined: Fri Feb 18, 2005 11:18 am
Location: St.Lawrence R.
---
Awesome tom, congrats sir! Gotta love those foggy mornings.
Participant

Posts: 9
Joined: Sat Apr 09, 2016 3:56 pm
Location: Embrun
---
That's a nice Tom down !! Good when a plan comes together
Gold Participant

Posts: 1830
Joined: Mon Oct 29, 2007 5:38 pm
Location: Eastern Ontario
---
Nice bird.
Field to fork. Gotta love it.
Silver Participant

Posts: 738
Joined: Fri Jan 24, 2003 9:18 am
Location: Ottawa
---
Thanks guys. This will be my first bird in the Traeger so maybe I'll follow up with the tasty results.
I got 99 problems but a fish ain't one...
Bronze Participant

Posts: 446
Joined: Wed Jan 06, 2010 9:05 pm
Location: the mighty st. lawrence
---
Very nice Tom and a great write up on the hunt. Nothing like the sound of a gobbler coming in hot and the show they put on
Bronze Participant

Posts: 387
Joined: Mon May 09, 2016 5:45 pm
Location: Eastern Ontario
---
Silver Participant

Posts: 753
Joined: Fri Jan 11, 2008 1:00 pm
Location: Ottawa
---
---
Who is online
Users browsing this forum: No registered users and 3 guests