And just when I thought I was done with bears for the season....lol
My buddy Wayne called me to let me know the bear with the object on its neck has been at one of his deer sites every night for a week. He asked if Id give him a hand setting a couple snares for it. No problem....i'm on my way.
We made 2 nice sets and he returned in the morning with his kids. I got a call from the oldest boy that they had a bear in the snare and were just waiting for the sunlight to dispatch it. I jumped in the truck and headed that way. Part way there, I get another call....there's a 2nd bear in the other snare. Neither are the bear we were after. Turns out it was big sow and her 82lb boar cub.
We never want to remove any cubs....or a sow and orphan her cub, but this worked out fine. Wayne had 3 tags and wanted to fill 2 of them, so in the end, he still punched 2 tags. We rebaited the site to see if the bear with the object stuck on it's neck returns. No sign of him yet.
Diamond Participant

Posts: 7594
Joined: Tue Sep 30, 2003 8:05 am
Location: Nova Scotia/St Catharines
---
Today marked the final day of the bear work. We had 15 bears to process this year. Our bear hunting friends give me their bear hides so they dont go to waste and I prepare them and ship them to the fur auction in the spring. My buddy wayne processed his own 2, we lost one to taint, 2 have already went to a taxidemist and the remaining 11 hides are drying the fur shed.
I ask my friends to leave the head in them and as a thank you, I skin them out and finish the skull for them. That way the head is properly skun out encase a taxidermist wants the hide. We finished this 408lb boar today and a local taxidermist scooped it up.
The last 2 skulls were picked up.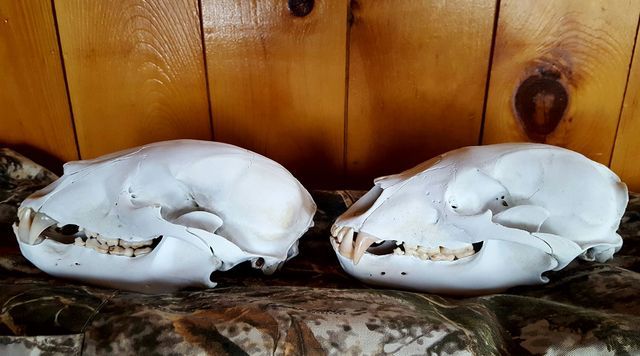 And the 11 hides in the fur shed will continue to dry until we ship them this spring.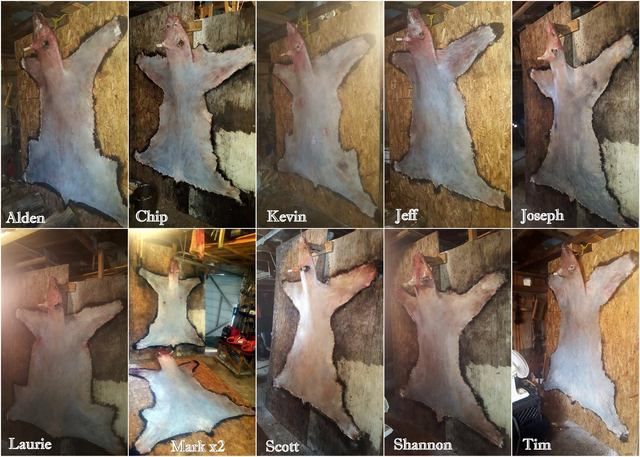 All thats left to do is to make a bit of jerky/sausage and enjoy the bear meat treats.
Diamond Participant

Posts: 7594
Joined: Tue Sep 30, 2003 8:05 am
Location: Nova Scotia/St Catharines
---
Wow
Thanks for updating your post again!
The amount of work that goes into every animal and you try to waste as little as possible is awesome.

Gold Participant

Posts: 1501
Joined: Tue May 21, 2013 10:05 am
Location: Gatineau (Hull) Qc Canada
---
I can relate to all the work you put into them Hides Markus and give you a thumbs up on a great job.
Bronze Participant

Posts: 334
Joined: Mon May 09, 2016 5:45 pm
Location: Eastern Ontario
---
Thanks fella's. It's a labor of love and i enjoy sharing our excitement and experiences for others to enjoy as well.
Diamond Participant

Posts: 7594
Joined: Tue Sep 30, 2003 8:05 am
Location: Nova Scotia/St Catharines
---
---
Who is online
Users browsing this forum: No registered users and 2 guests