Duck opener came and went so fast this year. My duck boat is buried in my barn, which I am slowly trying to tidy up and get out. I had a swamp as a backup plan for this year, however with the extreme draught, the swamp was rather dry. We had a plan for the swamp, put it in motion, and it worked out. Field decoys and the mojo were key factors to our success. We were setup well before legal and shooting the breeze, wondering how our morning would.
Well 10 minutes before legal, it was bright as day, and the ducks were flying in big flocks, It was the worst 10 minutes of my life, just wondering, if the birds would still be around in 10 minutes, when it was legal to shoot.
Low and behold, they continued to pour into this dried up swamp. I am positive it was the mojo, and a new product called the swampNgo, which I will keep as my secret weapon for now. Anyway, 4 minutes after legal, we had to stop shooting and gather ducks, as we had no idea how close to our limit we were. Ducks were falling everywhere. I could not bring my dog, as the swamp was basically 15" of quick sand, and he would have for sure broken his legs on his first leap into the muck, so we had to do it "old school" and retrieve them ourselves.
As we were gathering ducks, we missed a few opportunities, but we recovered all ducks we had shot in the first four minutes. (this is the first time I have not had my dog with me in 6 years, and I tell ya, he's much better at finding birds in cat tails then 3 men. lol). At this point we had 9 ducks, which was quickly upped to 13. It was pure chaos for the first 20 minutes of shooting. We ended up hanging around until 10:00, only getting two more. We ended with a total of 15. We had 13 mallards, one which was either a juvenile mallard or black, or a hybrid, and one woodie.
We were happy campers as we did not expect much, given that the swamp was literally dried up.
Here's the money shot!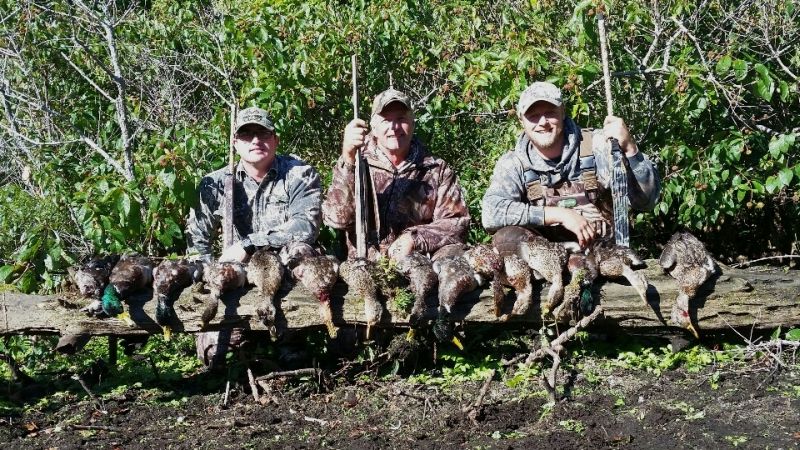 Hoping after this upcoming long weekend, my boat will be accessible which will make our options endless.
This hunt was so much fun, it's been a few years since I have hunted a swamp and I love the first light chaos. The only thing that would have made this hunt better, and would have resulted in us getting a limit would be my dog. I certainly missed having him there, and he was totally pi$$ed I left him at home, and even more pi$$sed when I brought ducks home.
Hopefully next trip will be in the boat, and Duke will be accompanying us.
MEAT - Grind it, stuff it, smoke it.
Site Admin

Posts: 1640
Joined: Thu Sep 08, 2005 1:54 pm
Location: Quinte Country
---
Awesome outing, love the "money" shot! Duke looks exactly like my fishin partner Hunter. Hunter gives me the cold shoulder when I don't bring him out fishin too. It's just not the same without our 4 legged friends, especially duck hunting I could imagine haha.
Silver Participant

Posts: 521
Joined: Fri Sep 06, 2013 9:33 am
---
Great opener!! Nice when a plan comes together.
Gold Participant

Posts: 1831
Joined: Mon Oct 29, 2007 5:38 pm
Location: Eastern Ontario
---
Congrats on a nice bunch of ducks. It seems the numbers are up this fall as we are seeing lots of ducks and has been good shooting so far.
Bronze Participant

Posts: 387
Joined: Mon May 09, 2016 5:45 pm
Location: Eastern Ontario
---
Holding off during those early morning minutes are always a good indicator of the ethics in a hunter. Good stuff bud....a lot cant control themselves before legal time.
Diamond Participant

Posts: 7636
Joined: Tue Sep 30, 2003 8:05 am
Location: Nova Scotia/St Catharines
---
---
Who is online
Users browsing this forum: No registered users and 1 guest