Being that this is my first post on Archery Talk, I figured I`d make it an interesting one.
Here in beautiful, sunny Western Quebec( a common misconception of our lovely province is that everyone who lives there is francophone. Not true), a majority of hunters shoot spikes, fork horns, and other small deer. A 2.5 year old 6 point garners the same reverence as a 4.5 10 point in most other places.
I am not one of those hunters. I`m very picky about which animal I decide to shoot, and when.
Anyways, back in 2010, I began getting pictures of what I figure was a 2.5 or 3.5 year old wide 8 point with very, very short tines checking scrapes and rubs, and going through travel corridors. Being that it was one of the larger deer I`d seen in a while, I was ecstatic to know that he was roaming my property.
Exhibits A&B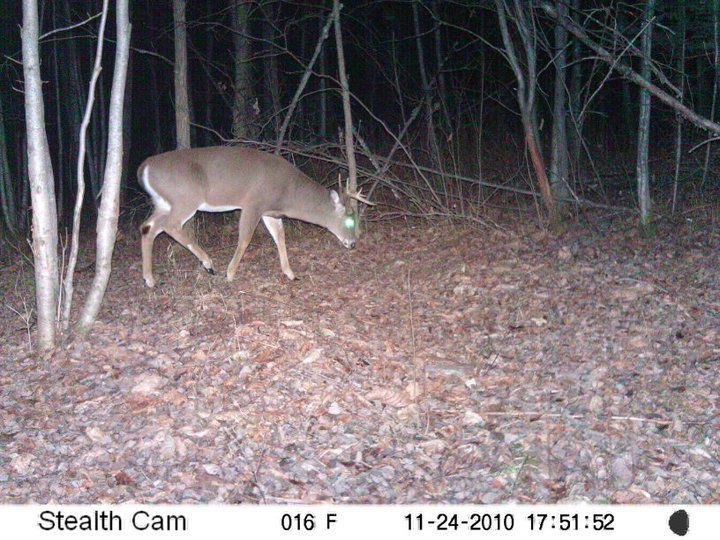 I never laid eyes on this buck during legal daylight shooting hours.
In 2011, I got a few grainy pictures of him, but nothing noteworthy, but hey, at least I knew he was still roaming around!!
Fast forward to 2012. One of my worst hunting seasons to date. During the 2 week gun season here in Quebec, I shot at and missed, a giant 8 point( which was killed the year after by my neighbor) and a smaller 8 on the second last day of the season.
At the beginning of the second week of the gun season, I went back to a spot that my father and grandfather often spoke about in hushed tones, mentioning that they had shot some of the best and biggest deer of their life there. I figured, what the heck, might as well roll the dice!!
I got set up at the base of a giant oak tree. The trees semi exposed roots came up into a kind of bowl formation, which made it perfect to have a seat in. I thought, Great! This spot is made for me to shoot a deer in!
After 3 hours, countless rattle and grunt sequences, and much frustration, I decided to pack it in. I did one final rattling sequence and then heard something that sounded like a freight train come crashing through the hardwoods. It was him. The wide 8 had developed into a wide, short tined 10 point. He stopped literally 13 yards( I ranged it after) from where I was sitting, behind 4 small spruce trees. Now, I`m right handed. I shoot right handed. This buck came out to my immediate left. I could see his antlers sticking out from behind the trees. I decided, `` What the hell. There`s no way I can miss from this close shooting from the wrong side``. I let a bullet rip from my .270 and immediately jumped up to see the deer run off. `` Shouldn't`t be too tough to find him `` I thought to myself. I was positive I had killed that deer. I called my dad and told him I had just shot a good one, and needed help to look for it. He showed up, we found sparse patches of blood here and there, and after 3 hours, and it getting dark, we couldn't find the deer. After a long, sleepless, gut wrenching night, I went back the next morning, and spent 4 hours looking, but found nothing. I was heart broken, as I imagined that this buck, who I now estimated to be at 4.5 years old, would die of a wound, made by a poor shot by an overconfident 20 something hunter.
The week after our gun season ended, I checked trail cameras. And, was pleasantly surprised to find my wide, short tined 10 point had made it through the season. You can see the dark patch on his brisket where I assume I had hit him.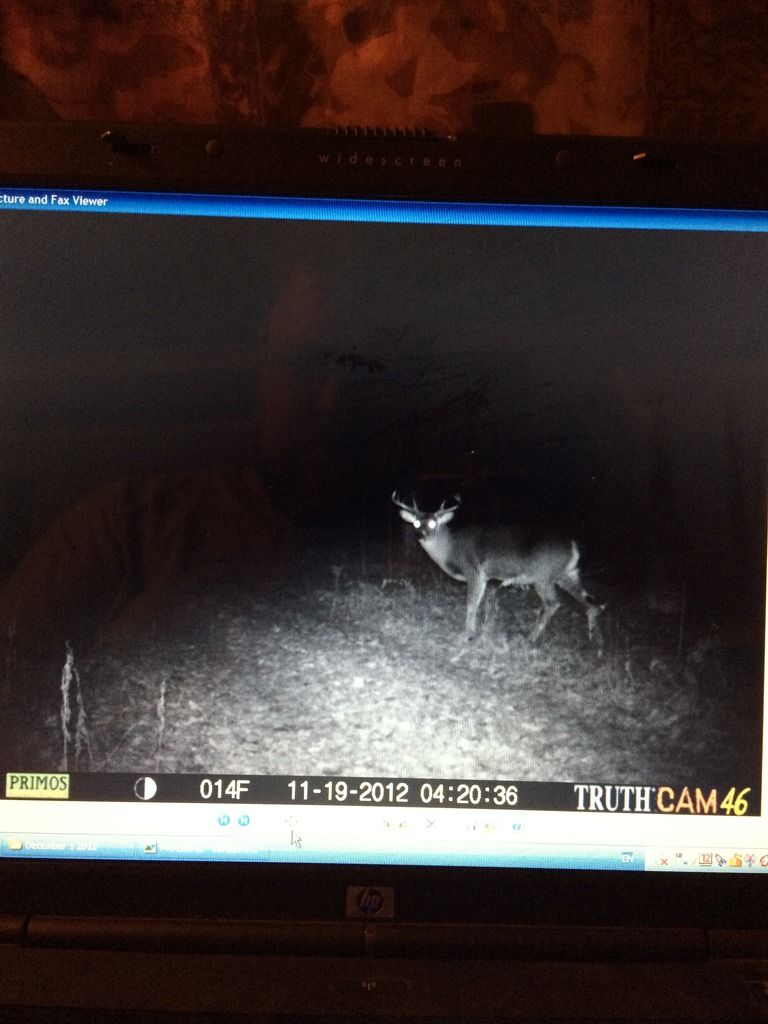 Now here`s the funny part. Since 2012, I have had no pictures, sightings or contact with this buck. I assumed that he had either succumbed to old age, or ran into someone who was a better more patient hunter than I was.
Yesterday, while checking trail cameras, I almost lost it when I began looking at the following pictures. Note the fisher in some of the pictures.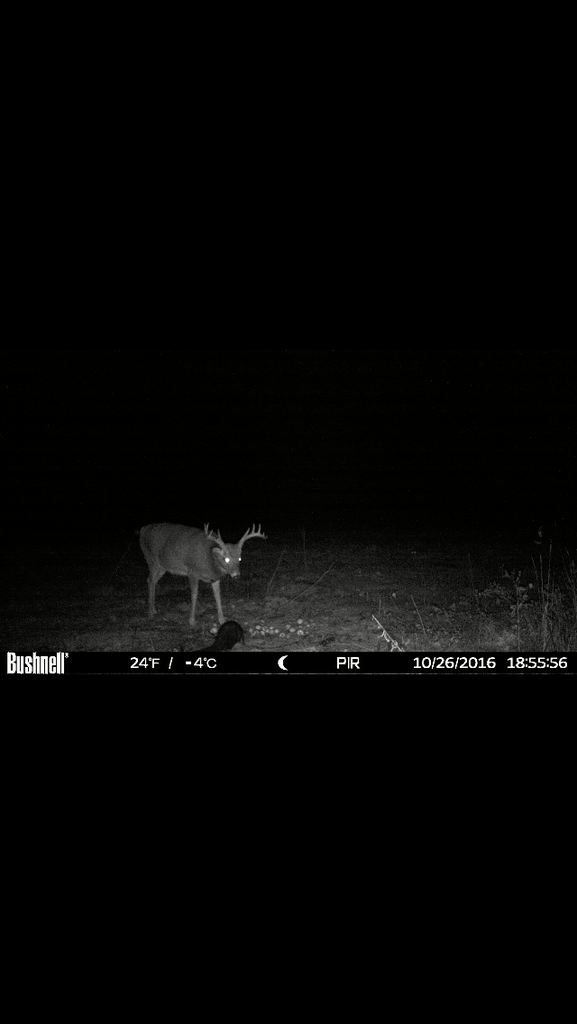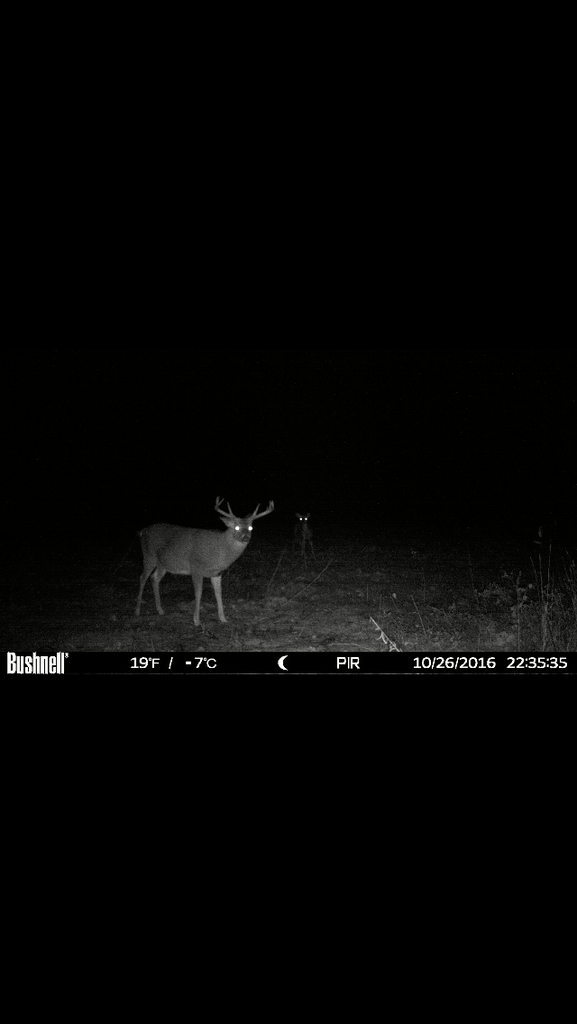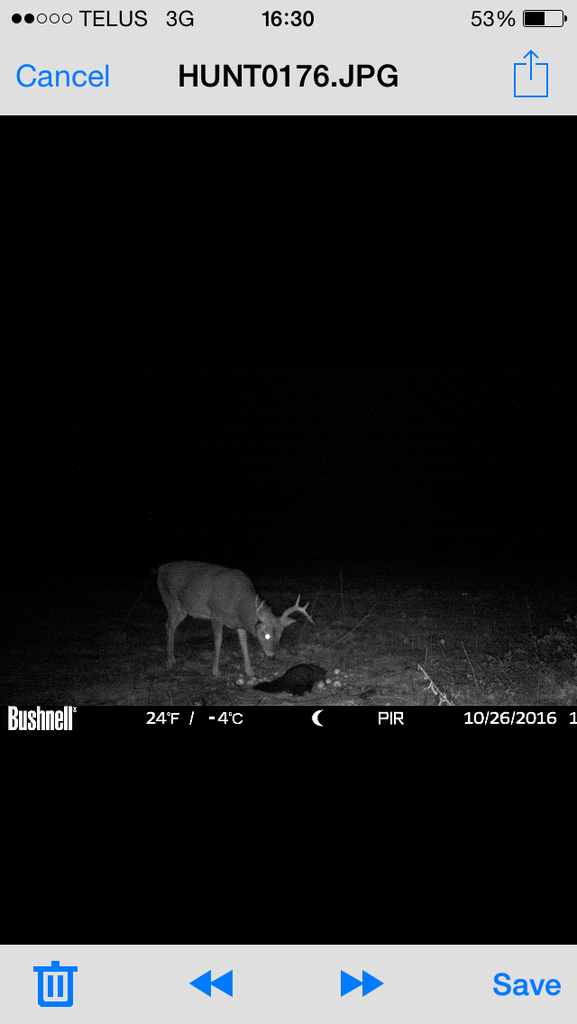 This buck is now 8.5 or 9.5 years old. I was stunned to see him on my cameras once again. I have now come up with a name for this buck, and he will be my primary focus this season.
This buck will be known as Methuselah.
Bronze Participant

Posts: 104
Joined: Tue May 14, 2013 5:23 pm
---
Pretty cool pics and nice to see the buck survived this long. If you get him this fall you may have to grind the hamburg twice.

Bronze Participant

Posts: 387
Joined: Mon May 09, 2016 5:45 pm
Location: Eastern Ontario
---
Very cool.
Pretty amazing that the deer survived a bullet wound. In the area I hunt, the coyotes woulda never stopped until that deer was dinner.
Silver Participant

Posts: 738
Joined: Fri Jan 24, 2003 9:18 am
Location: Ottawa
---
Enjoyed the story, thanks for sharing. It's deer like this that help motivate a hunter to sit through sleet and rain... it's getting personal for you.
Hope you can have success and good luck.
Gold Participant

Posts: 1830
Joined: Mon Oct 29, 2007 5:38 pm
Location: Eastern Ontario
---
Thats some really cool photo history there.
Diamond Participant

Posts: 7636
Joined: Tue Sep 30, 2003 8:05 am
Location: Nova Scotia/St Catharines
---
Awesome story!
Thanks for sharing
Gold Participant

Posts: 1599
Joined: Tue May 21, 2013 10:05 am
Location: Gatineau (Hull) Qc Canada
---
---
Who is online
Users browsing this forum: No registered users and 2 guests