After the hunting season concludes, we like to host at our camp a special day with a focus on future youth hunters. For the 4th year we've held the "Tree Rat Classic" which is basically a full day of fun for kids 11 and under that includes a squirrel hunt, a target shoot, a guess the bear weight competition, a bonfire, great food and just a fun day in the woods with a mentor.
Basically the way it works is we start the day with a squirrel hunt. Teams made up of youth and a mentor hit the woods in the morning and are welcome to hunt as little or as much as they'd like. Each team can weigh in 2 squirrels at 2pm. Best weight wins. Then we have a target shoot. We keep our bear weights from the previous season under wraps, and everyone is welcome to submit one guess each for a weight on one of those bears we've selected for the day. Closest to it without going over for each adult and each youth wins. And the hot bear sandwiches and hotdogs fill the hungry bellies while they enjoy a big bonfire.
We've never asked for any additional support for this day, but folks in the industry saw what we were doing for these young up and commers and really helped out this year. We were blown away with the support and we cant thank the following people enough.
Canadian Wild Turkey Federation
North Shore Guide Services
Young Guns Hunting Shop
Bea's Outdoor Adventure
Women That Hunt
Mill Lake Outfitters
The kids had an absolute blast again this ear and when they left the camp to hike back down the mountain, they had some big smiles on their face. This day was a huge success again. We only have space for 15 youth and those spots fill up fast. I wish we could accommodate more because the interest is out there. It does demonstrate there's kids and parents out there interested in hunting at an early age.
Thanks again to all those that supported us, participated and enjoyed the day with us at our camp. Here's a few pics from the day.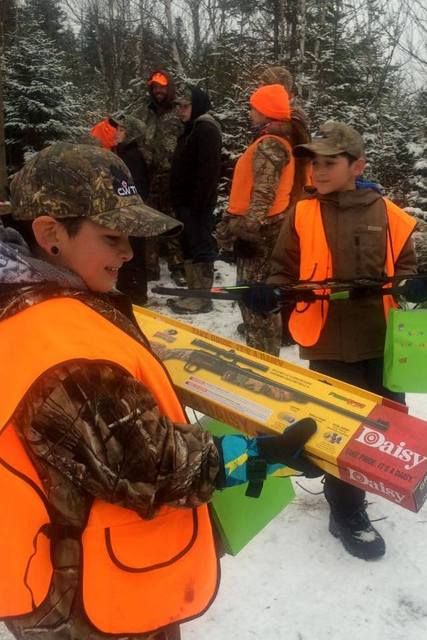 We are looking forward to nexts years event already.
Diamond Participant

Posts: 7636
Joined: Tue Sep 30, 2003 8:05 am
Location: Nova Scotia/St Catharines
---
Mark this is great stuff.

Thanks for sharing with us.
MEAT - Grind it, stuff it, smoke it.
Site Admin

Posts: 1640
Joined: Thu Sep 08, 2005 1:54 pm
Location: Quinte Country
---
Gold Participant

Posts: 1599
Joined: Tue May 21, 2013 10:05 am
Location: Gatineau (Hull) Qc Canada
---
Awesome Job and a big thumbs up to all the volunteers that help make this all happen for the younger up and coming Hunters. Kids are great and when we can help them enjoy the outdoors it is great. Great pics and lots of happy smiles
Bronze Participant

Posts: 387
Joined: Mon May 09, 2016 5:45 pm
Location: Eastern Ontario
---
Great stuff Markus!
Fishing the St.Lawrence 12 months a year!
Silver Participant

Posts: 689
Joined: Sun Feb 25, 2007 9:25 am
Location: Prescott Ont.
---
---
Who is online
Users browsing this forum: No registered users and 2 guests