After Dad and I both tagged out last year for the first time, there was cautious optimism in the air for this year's turkey hunt. After a couple days of renovations on the house, opening morning came and so started 5 days of turkey hunting that I will never forget.
Opening Day
Opening morning did not immediately put forward any hints of the marvels to come. Our first spot yields nothing more than a distant gobble and a hen in between us and it. Two pick-up trucks are going up and down the road. Occasionally, someone jumps out and calls to a flock of birds less than 100 yds away from the truck. So, that's how the first generation of hunters that didn't take the turkey course hunt I guess. We head back to my truck a little disgusted. A new map I discovered reveals another nearby parcel of public forest that is worth a look. A drive-by reveals 2 lonely strutting toms.
Fast forward 30 minutes. We spook a white hen....ughhhh. We half-heartedly set-up our chairs and surprisingly my first call is answered with a thunderous gobble. Within minutes a hen is meandering our way through the pines. Then more birds join her....and more....I don't know how many birds were coming in but the initial hen is beelining for me. Dad and I are both shouldered. The hen disappears behind a knoll. A bird pops out 15 yards away from me with an obvious beard protruding. BANG!!! I drop the hammer on our first bird of 2017. Dad however does not share my elation. "YOU SHOT MY DECOY!!" Dad knew it was a bearded hen all along and unbeknownst to me a large tom was following her in...sorry dad.
That night my son Jack joins us in hopes of seeing his first harvest. Action is fast and furious but the birds catch sight of some movement and are reluctant to enter the bush. Jack will get his chance later.
On morning two dad and I head to a new area with multiple parcels of public land I had found on the aforementioned new map. Earlier scouting had only shown me that the spots looked perfect but no birds had been spotted. Dad and were pleased to find strutters adjacent the last strip of public land on our run. An easy walk through a plantation leads us quietly in the right direction. When my 3rd calling sequence gets gobbled at we settle in. Soon 2 hens come investigate, and skirt by us. The gobbling stops which can mean hens have stolen our tom but more often than not it means that a bird is cautiously making his way in. Dad shoulders. I see nothing. Dad takes his safety off. I still see nothing. Dad fires and I am very impressed to see a flopping tom 40 yards away. See, my dad at this point was about 1 for 8 with the Mossberg he purchased 4 years ago. At the hunt camp last fall we did some extensive target practice to find the perfect barrel/choke combination. Looks like we nailed it.
It's ugly now as it flopped around in a puddle but this bird is now at Sunset Taxidermy in St-Andrews for a half strut walking mount that will add to the decor of my parents log home if all goes well.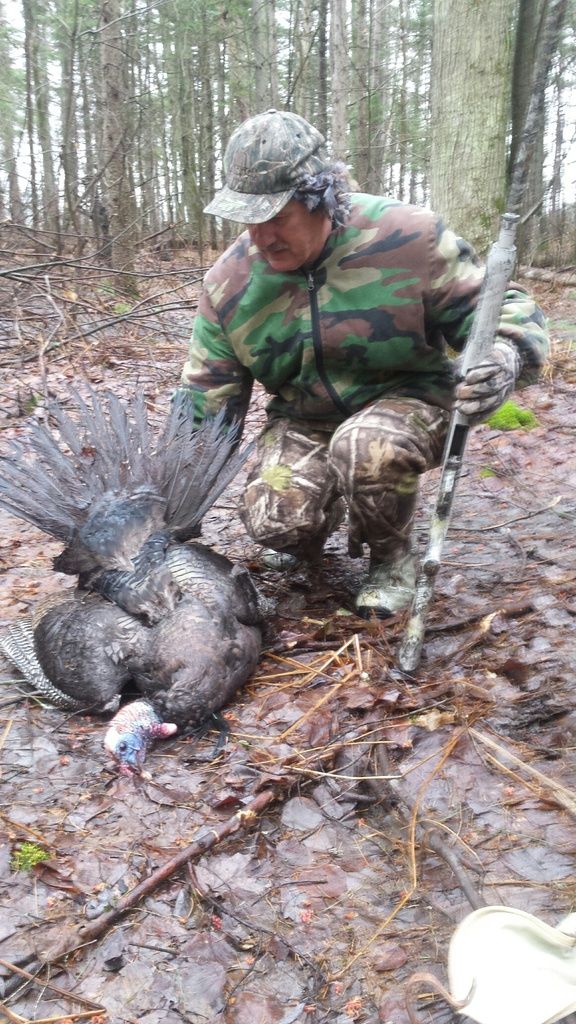 That evening I miss the best looking Tom I've ever seen but nobody needs to know about that....
Thursday morning comes around and we headed back to where Dad got his Tom. Dense fog keeps us from seeing well into the fields. Our explorations of some more densely forested areas reveals many birds, and many hunters. One spot looked perfect. Dad and I are making our way through the bush calling occasionally. Eventually Dad let's out a psssstttt....I look back and he asks "What are you waiting for??". I give him a puzzled look to which he answers: "He's gobbled at you 3 times!". I guess I was too focused on walking quietly that I never heard the gobbles. By the time we set-up the bird is quiet, surely spooked. Oops. We keep driving, and sipping our coffees for the next hour or so without much action. On a whim I decide to turn off the highway to go check some spots that look promising but where I've never had success. "We're allowed right here dad", we both turn to look at the forest edge and simultaneously let out a "WHOA!". 70 yards from the road are 2 startled birds with a few more further in the field. I slam the truck in reverse and we park along the ditch. We walk 100 yds or so at which point my first call is answered by a gobble. We settle in and wait. Gobbles are far between. A branch cracks and I see dad shoulder. A hen pops her head between 2 trees and walks to 20 yds of us before hanging a left. "Click" dad takes his safety off and that's when I see the top of a fan over a knoll. A large Jake takes a few more steps towards us. BANG! Again through some dirty bush at at no less than 35 yards dad drops a bird. He's tagged out before I am and I couldn't be happier! The afternoon forecast calls for +32 so we opt out of an afternoon hunt.
Friday morning Dad sleeps in as the wife has taken a vacation day to enjoy some weekday turkey hunting. Good call!! We make our itinerary and are on the road by 5:30. A lonely tom is all we can see on the first spot. We pull over and decide to give it a shot. We don't have to walk far before my calls are answered. The gobbling is furious. Before long 3 jakes meander their way towards the wife. She doesn't see a beard so she holds off. I do see beards so as the birds are making their way away from us, I let one rip and 3 jakes leave. I had only missed one bird over my last 6 turkey seasons, at this point I was 1 for 3 in 2017. "We should stay here for a bit" the wife says. Still upset with myself I grudgingly agree. Birds are still gobbling from another direction. I give them a gobble back and they respond perfectly. 15 minutes after I had missed that jake, 4 toms come zig zagging in through the spruce trees. I have a clear shooting lane to my right and when the 2nd bird goes through I give him a couple clucks to stop him and let him have it. He drops and the 3 others kick his feathery butt. The wife is trying frantically to swing herself and her gun around a tree to get the double but she never gets a clear shot. We tag my tom and head towards where I had shot a bearded hen earlier in the week. There is no life around except for a Tom 500 yards from the forest. We decide to give it a shot. At the exact spot where I shot on Tuesday the wife looks at me and says, I think I just heard a gobble. OK. Worth a shot. We settle in and within a minute a hen is into the bush. Behind her are 3 Jakes. A big strutting Jake stops 20 yards from the wife and she lets him have it! Her 2nd career bird and the cap to a great morning in the turkey woods.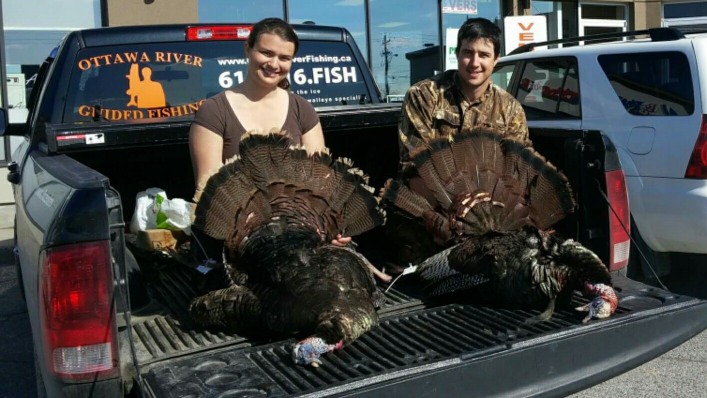 To our surprise, Jack wanted to try a morning turkey hunt. Our little guy is not a morning person so we figured there was about a 50-50 chance we'd actually crawl out of bed and join us Saturday. The wife and I were both happy to see him come downstairs all dressed up in his "linge de chasse". A bit of a late start to accommodate the little guy, but at 6:35 we are driving by my goldmine and a field full of birds. Gobbles aren't abundant but a very talkative hen keeps Jack entertained. After 10 minutes of silence the first "this is boring" of the morning is uttered. On cue, a gobble from a new location is heard. 5 more minutes of silence, another "I'm bored". Then a gobble sounds off on the treeline. "OK Jack, he's close don't move, don't talk". 2 minutes later, "Mom is aiming she sees him". Then, a gobble at 20 yards, and another, and another. He's shaking! My little guy is doing his best to stay still but his excitement is more than he can contain. Finally, I get a faint visual, then out pops a jake directly in front of us. We admire it for a few seconds and when he steps between two trees, Danielle pulls the trigger. Jack immediately jumps up to see. We are all elated. Danielle is tagged out, Jack finally got to witness his first successful turkey hunt and he's still shaking. A perfect end to our 2017 turkey season.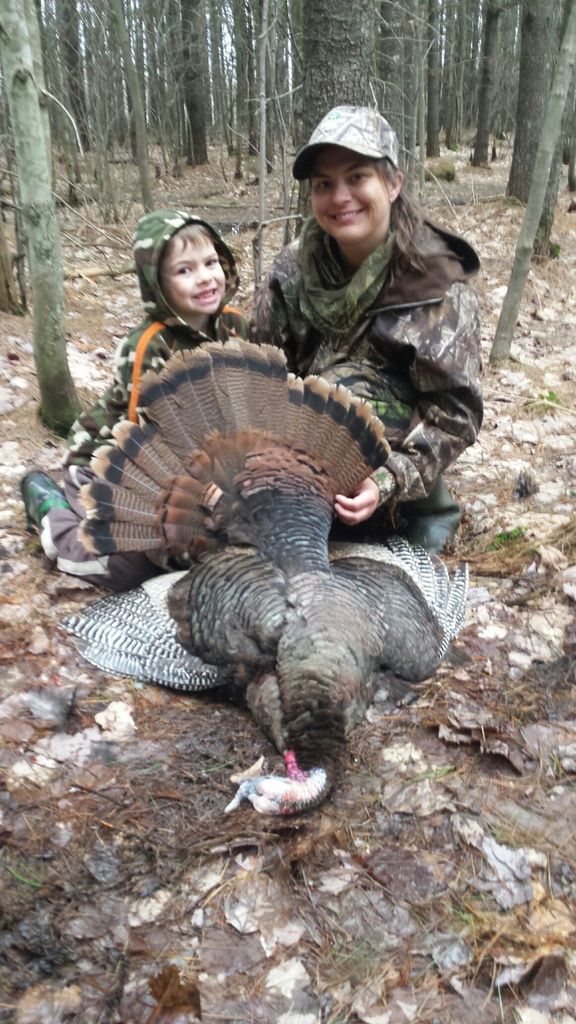 I doubt I'll ever top this season. Everything just came together. And for the record, all these birds were shot on public lands and I never even took the decoys out of storage. Now, I can start thinking about bending poles!
Cheers.
Yannick
.
Gold Participant

Posts: 1128
Joined: Thu Aug 07, 2008 11:40 am
Location: Rockland
---
Very nice write up and I felt like I was there reading it. Congrats on some nice Toms and your son will soon be looking for his 1st one with you
Bronze Participant

Posts: 387
Joined: Mon May 09, 2016 5:45 pm
Location: Eastern Ontario
---
I always like to find something to read while I enjoy my morning coffee and I couldnt have found anything better! Wow. Great hunting...and thanks for taking the time to share the pics and the story!
Diamond Participant

Posts: 7636
Joined: Tue Sep 30, 2003 8:05 am
Location: Nova Scotia/St Catharines
---
Hi Yannick, I live in the Aylmer area and am interested in doing some fall turkey hunting. Would you be willing to share this map you speak of to help possibly guide me in the right direction.

You can PM me if you'd like.

Thanks
Participant

Posts: 57
Joined: Mon Sep 14, 2009 8:39 am
Location: Ottawa/Gatineau Canada
---
---
Who is online
Users browsing this forum: No registered users and 1 guest