I've seen sections like this on other sites and figured it should work here as well.
Feel free to post anything that you think might help others out. I believe kids these days are calling these life hacks.
first off, for the s?u?c?k?e?r?s?, I mean folks that pull a sled out ice fishing by hand. Adding this
http://www.amazon.ca/Crawford-Lehigh-CZB5-5-Feet-Cordzilla-Stretch/dp/B001FB6TY4/ref=pd_sim_hi_1?ie=UTF8&refRID=0EVKZXF4DNX76Z9VZTG6
to your rope makes it much easier to pull. I attach 1 end to the rope on my sled then make a loop in the other end and throw that over my shoulder kinda like a messenger bag, if that makes any sense. it frees up your hands and the stretch in the rope makes pulling much nicer. I got my rope at Walmart but their website isn't listing it anymore.
the second one i have is for people with the buddy style heaters. I run mine off of a 20lb tank and even having a fairly large (8x10) shack it still takes up a ton of floor space. An old milk crate solves that. Attach your hose and turn the tank on then turn the milk crate upside down and put your heater on that. As a side note to this one, I always use pink for easily stolen items, no one else seems to want to grab it then lol.
If you have a permanent shack or any situation where you are always re opening old holes, one of these is a must have. A 4 inch chopper/scraper. best "spud bar" ever.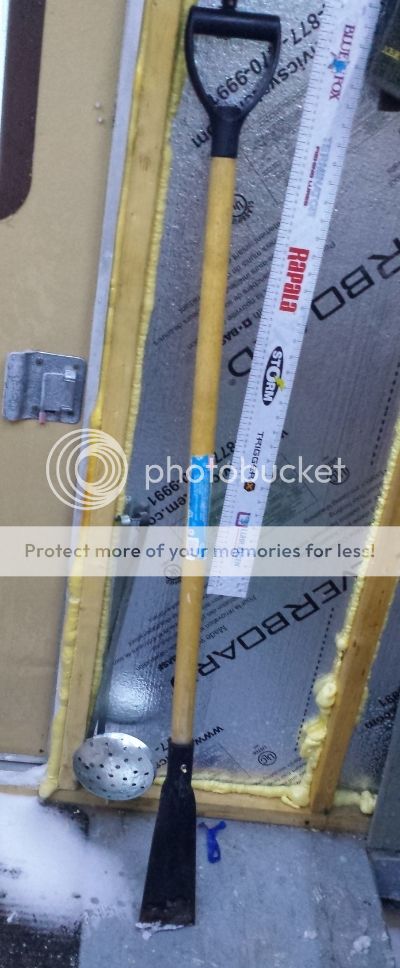 Bronze Participant

Posts: 110
Joined: Mon Mar 15, 2010 2:15 pm
Location: Carleton Place
---
--
Last edited by
RyanW
on Mon Apr 25, 2016 6:47 pm, edited 1 time in total.
613 Ice Fishing
On Facebook
Bronze Participant

Posts: 281
Joined: Thu Dec 19, 2013 12:10 pm
---
That has a locked icon for me, so didnt think I could post there anymore

this can be moved i guess then, and it wasnt really just for fishing tips per se.
thought having it in a more visible spot would work better too.
Bronze Participant

Posts: 110
Joined: Mon Mar 15, 2010 2:15 pm
Location: Carleton Place
---
Another good case for a "latest/newest posts" type page so good posts don't disappear after 15.

Good thread btw. Cheers
Smitty

Straight shooter
Gold Participant

Posts: 1629
Joined: Mon Jun 23, 2008 8:37 pm
Location: Lanark County
---
Choke wrote:Love the milk crate idea.
since this hasn't been moved yet i'll add to this a bit more.
The milk crate also comes in handy when transporting the tank. Put the tank in the milk crate and you will never have to worry about the tank rolling around in the back of your car or truck.
Bronze Participant

Posts: 110
Joined: Mon Mar 15, 2010 2:15 pm
Location: Carleton Place
---
---
Who is online
Users browsing this forum: No registered users and 1 guest