Not your typical "ice fishing" report!!
Posted:
Mon Jan 23, 2017 6:32 pm
With the crazy warm temps the past week, and a few ice and bite reports from various sources, I was aiming tomowards plan B for the weekend. I had a hunch and had to investigate.
I was right, the launch was open!!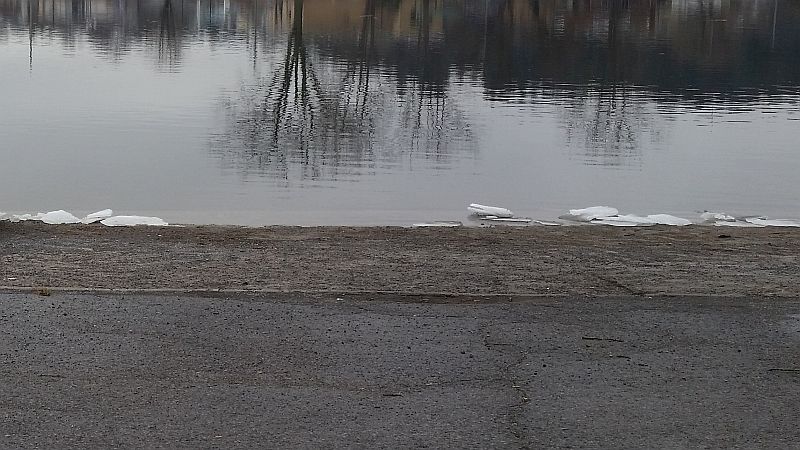 I called my Dad from the launch, it didn't take any convincing, and I went home to take the winter cover off the boat and hook 'er up.
Ready to go in no time.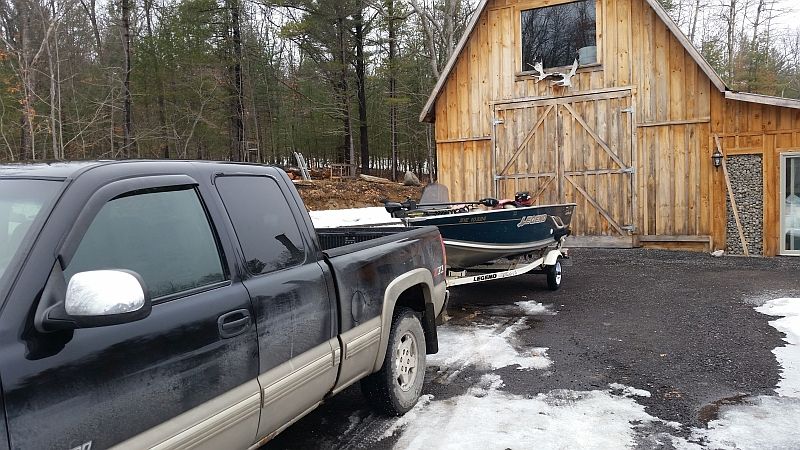 I rigged up a pair of rods with 1/2oz jig heads, a gulp minnow and a real minnow. It wasn't long and Dad "broke the ice", although there wasn't much ice to break. lol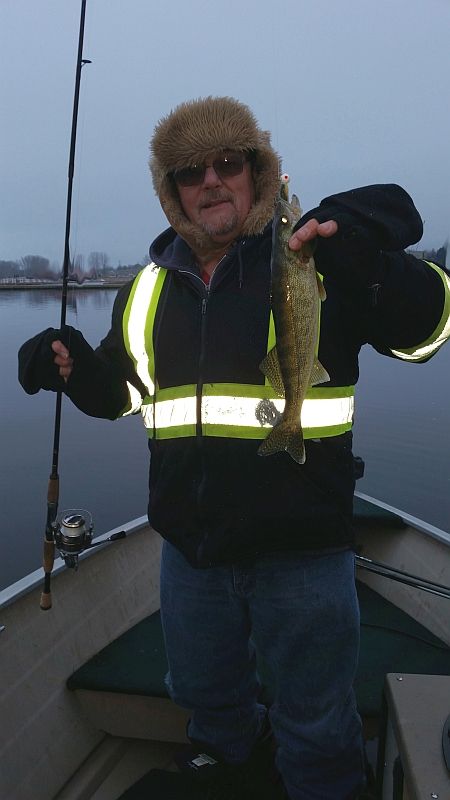 We fished our way to the edge of the remaining ice and I snapped this pic of a group of people ice fishing. I have done some crazy things, and have been on some thin ice, I have even fallen through once, but I would never in my right mind be out where these guys were.
Before we setup for another drift I thought I better flip a jig under the ice edge. I haven't been flipping for walleye before, but apparently it works.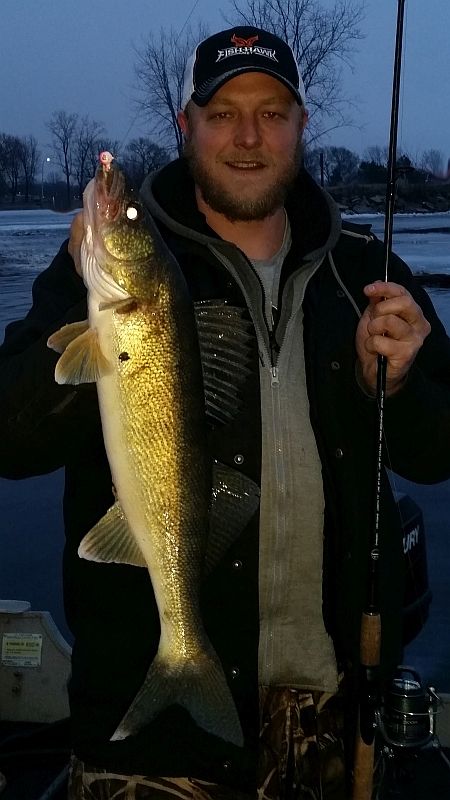 And apparently it works more than once.
As the darkness settled in, we watched the ice fisherman leave the ice. I didn't hear any calls for help, so I'm assuming they made it off safely. We continued to jig and pitch the ice edge until 6:30ish, with no more fish to show. Concentrating on the ice edge, I wasn't really paying attention to the shoreline. When I finally looked towards shore, I realized we were about 50 yards further out, but we were still on the ice edge. The ice was going away very quickly.
After an hour of no fish, it was time to change things up. Bring out the stick baits and get trolling. The water temp was hovering around 33 degrees, so this called for a slowwww troll. We focused on 0.9 to 1.0 MPH, and it didn't take long to put our 4th fish in the boat.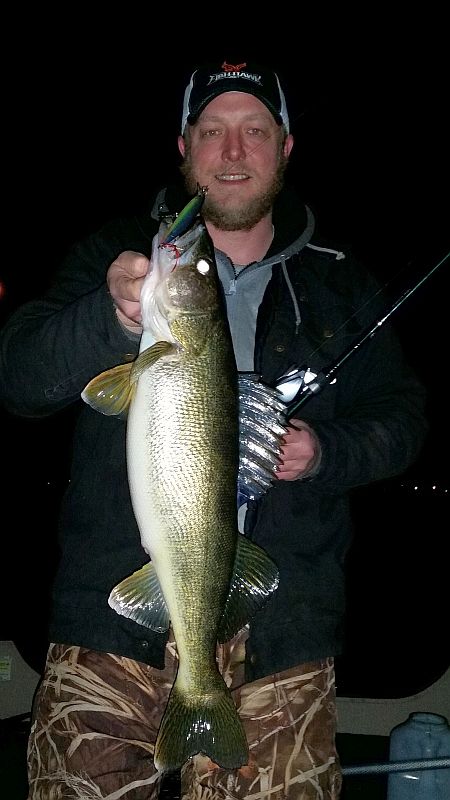 We continued trolling around with no more hits for an hour. We did a few runs, trying new "spots" while varying our speed, and were about to call it quits around 8:30 when my dad set the hook into the 5th fish.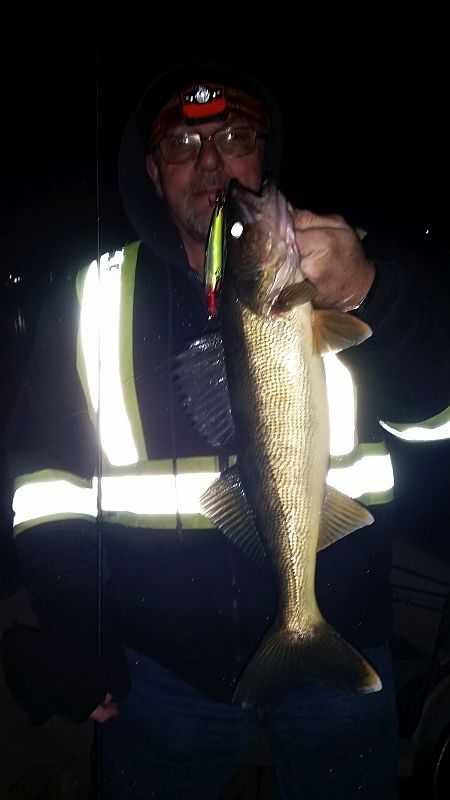 "Dad you want to do one more half pass along here"
"Sure"
I just got my line out and I had the 6th fish in the death well. I barely had my line back out and I was cranking it in so I could net our 7th fish for my dad.
"We only need one more Dad, we can't go now"
"I know, half pass?"
"Yep"
We were just about to call it quits (again) as we were coming to the end of our troll and dad secured the 8th fish to complete our meat run.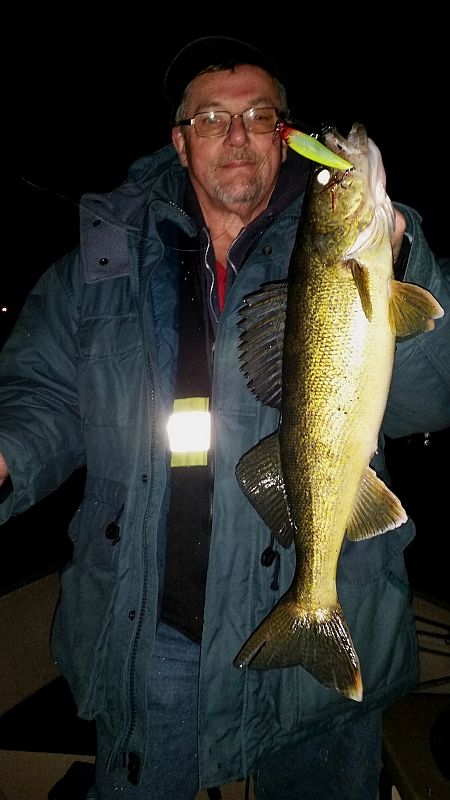 Every "full pass" we took, the ice was gone out around another 20 yards or so further. By the time we went to head for shore at 9:00, we were able to get the boat out to where the crazy mofo's were ice fishing 3 hours before. That goes to show you how fast the ice can go out on Quinte. We probably wacthed the ice go out close to 200 yards in the 3 hours after dark. It was craziness and a real eye opener. I've never seen anything like it before in my life.
We ended with 4 fish each and were hoping for a rubber match on Sunday, but it didn't pan out for us. I am in Ottawa for the week, so the rubber match is scheduled for Saturday morning. I hope the fish hang around for the week. It was a wicked 5 hours in the boat. No hat, no gloves and some mean, aggressive and and committed bites and fights.
I love my ice fishing, and I'm not happy about the ice conditions, but I have no problem spending time in the boat..

Be safe our there folks.