Here are the steps on how to upload files to the fish-hawk gallery.
Step 1
Photos can only be uploaded by registered users of the site. It doesn't cost anything to register, and your information is kept confidential, so why not get a userid? Enter our Gallery by either clicking on the Gallery icon at the top of the page, or selecting Photo Gallery from the main left hand window.
Step 2
Click on 'Upload Photo" pictured below. Note if you do not see the link 'upload file' you are probably not logged in.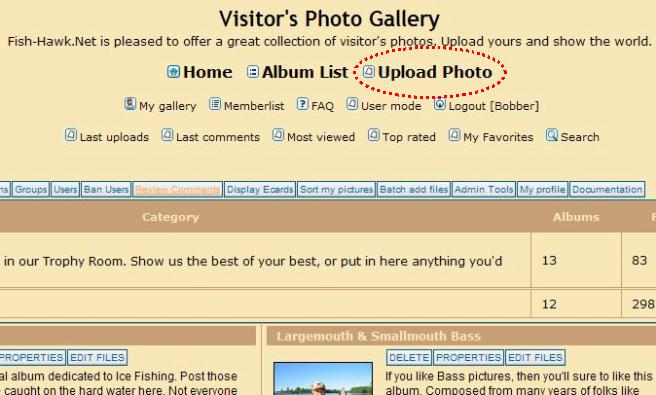 Step 3
You will be presented with a single screen that will allow you to enter the information pertaining to your photo, such as Category to place it in, name of the file on your PC (Click browse and select the file you want to upload), along with Title and Description if you so desire.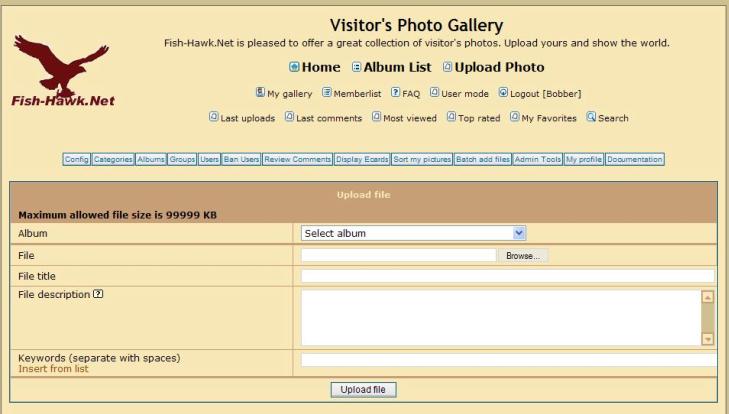 Step 4
Fill in the required information pertaining to your photo, and click on the Upload Button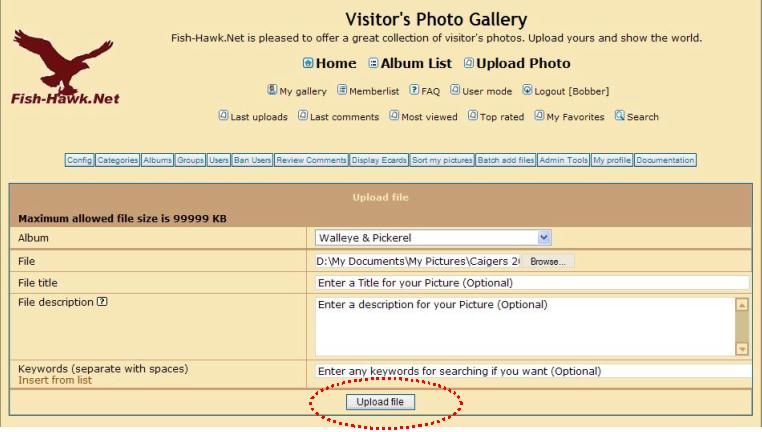 Step 5
After the upload completes, you will be taken to a screen that shows your uploaded photo. If there are any errors, they will be displayed at this point in time. Most errors are due to either not selecting the Category to place the photo in, or the size of your photo is too large. If this happens, correct the error and give it a whirl again.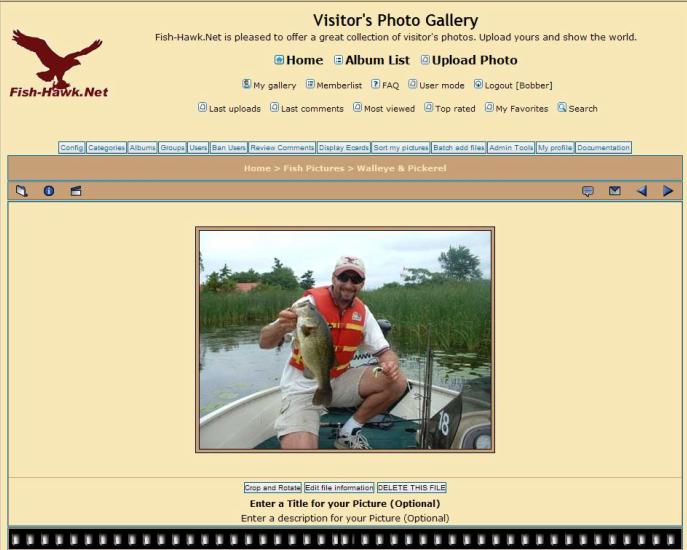 NOTE: THIS IS AN EXAMPLE AND WHILE THE GALLERY SAYS WALLEYE/PICKEREL, YES I KNOW THIS IS A BASS.

If you wish to use your picture in hawk-talk.. locate the picture in the gallery then right click on the image and choose properties. You will see the address url you need to reference.
That's it. Have fun uploading and admiring your photos.
Rob Atkinson
Site Admin (retired)
Diamond Participant

Posts: 3292
Images: 1815
Joined: Mon Sep 30, 2002 10:40 am
Location: Stittsville, Ontario
---
Return to Hawk Talk- How to...
Who is online
Users browsing this forum: No registered users and 1 guest